Beauté Academy
Brow Mapping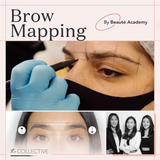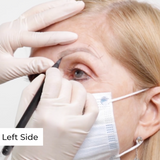 Beauté Academy
Brow Mapping
Learn everything there is to know about brow mapping in this course with Mini, Tiffany, and Laura from Beauté Academy. Cover everything from the golden ratio for different face shapes to balancing the various types of asymmetry we see in every client. Follow along with in-depth case studies, practice sheets, and SIX live demonstrations.
What You'll Learn:
Brow Mapping Consultation
Face Analysis
Golden Ratio
Brow Mapping Steps
Practice Sheets
Facial Asymmetry
Muscle Imbalance
4 Case Studies
6 Live Demonstrations
Mature Brow Mapping
Male Brow Mapping
No prior experience required. This course is for all artists, from beginner all the way through to experts, who want to understand professional brow mapping for each face shape and create beautiful brow results for every client.
One of the most detailed brow mapping courses ever! If you're struggling with brow mapping and looking for a variety of ways to best map and approach all cases, this course is for you. Once completed this course, you will be able to map any brow that comes your way with confidence.
Talk to product expert
Customer Reviews
Write a Review
Ask a Question
02/04/2023
Serena K.

Australia
Brow mapping course
OMG I thought I knew a lot but this course is the best money spent. It highlights areas I would not of even thought about , and now that I know what to cal the difficult I'm facial imbalances in my clients faces I now have more confidence to explain to my clients any kind of difficulty we might encounter. This hands down is the best in investment I have made thus far. If anyone is thinking of fine tuning your mapping skills DO IT, do the course❤️
10/31/2022
Cheri H.

United States
The best
This was the best class on brow mapping I've every seen. Learned so much. It was a more accurate , cleaner, and faster way of doing it. Same results every time and on different people. Thanks