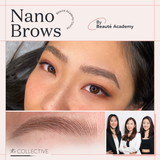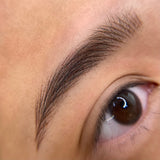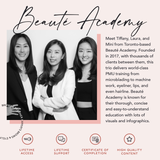 Created by Beauté Academy, hand-picked by Tina, we're thrilled to bring to you our Nano Brows online course! Nano brows is a fast-growing technique due to the hyper-realistic effect of tiny hair strokes created with a handheld machine, quickly becoming a client favorite. An alternative to microblading, but with minimal skin trauma and faster fading, leaving your clients with the most natural-looking hair-strokes.
Suitable for beginner and intermediate artists, instructors Tiffany, Laura and Mini teach you how to master both pixelated and defined nano stroke techniques and patterns to create dimensional brows to suit a wide range of clients. Learn step-by-step and follow along with the skin pad demos. Featuring one full procedure in HD, watch up-close on how to achieve nano brows!
This comprehensive course is filled with essential theory, from client contraindications, to skin anatomy, color theory, face analysis, symmetry for brow mapping, and much more! Included are two case studies, as well as downloadable worksheets!
Recommended for artists with at least 1 year of machine experience.
Course highlights:
Different hair strokes & brow patterns
Creating defined vs pixelated nano strokes
Adding dimension
Brow mapping for nano brows
Pre & post-care
Skin structure
Color theory
Face analysis & symmetry
9 skin pad demos
Live model demo videos
Case studies
What to expect upon completion of this course:
A comprehensive understanding of the nano brow technique
Improved machine artistry
Ability to offer an alternative to microblading
Recommended for artists with at least 1 year of machine experience.
Beauté Academy features the following products in this course:
When clients ask me where to get the best brows in Toronto, I send them to Beauté Academy! Tiffany, Laura and Mini have mastered the art of the nano brows technique and this course teaches you all of their tips and tricks to add this trending service to your business offering.
Talk to product expert