The Clinical Academy
Tones of Perma Blend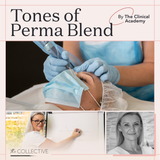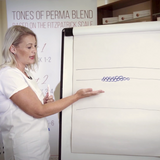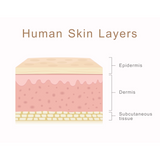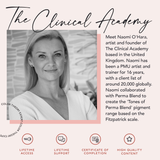 The Clinical Academy
Tones of Perma Blend
This product-knowledge course will teach you how to choose the best pigment for each and every Fitzpatrick skin type using the Tones of Perma Blend pigment range. In easy-to-understand terms, this course explains the different influences that affect healed results so you can achieve excellent results for your clients, every time. If you're new to PMU, this course will help you to better-understand colour selection for each client that comes your way.
What You'll Learn:
The Fitzpatrick Scale
Skin Undertones
Skin Characteristics
Technique
Previous Permanent Makeup
Get to Know Your Pigments
This course is for beginner artists looking to improve their healed results and gain a deeper understanding of pigment selection for different skin tones.
If you've invested in the Tones of Perma Blend pigment range and you want to grow your confidence in pigment selection, this course is for you. Naomi explains how to get the best-healed results for every client type in this simplified color theory course. Ideal for artists who are new to PMU.
Talk to product expert
Customer Reviews
Write a Review
Ask a Question
10/07/2021
Kelsie K.

United States
10/10
I love that there are so many courses for different topics in the permanent makeup industry at reasonable prices. It's like a one stop shop for learning. This course is good for someone like me who has taken a fundamentals training course and has a basic understanding of permanent makeup, but hasn't been in the industry for long. I loved learning about different topics that interest me. This course was easy to navigate, like other online courses. I love that there are downloads available to keep after the course so that we can use it in the future with our clients. Overall, nothing bad about the online course
10/07/2021
Adalis V.

Ireland
Improved my understanding of colors and tones
If you're a beginner/having done a few clients already this course is for you. Get a better understanding of colors, tones and there relationship with different skin types.