Tina Davies Professional
Evenflo Colours | Brow Set
Tina Davies Professional
Evenflo Colours | Brow Set
Born out of Lulu Siciliano's passion for her craft, Evenflo Colours is a custom palette that leaves all guesswork aside, letting you focus on what's important — results. There are 5 essential colors any artist would need to be able to work on a client of any ethnicity. The colors can be used as-is or they can be modified to cool or warm shades if needed, delivering natural-looking results instantly.
Set includes 5 0.5 oz pigment bottles:
Almond: A light value, light brown pigment with a warm undertone. Perfect for your light blonde/light brown-haired clients. Add a drop of Terra to darken. Suitable for Fitzpatrick 1-2.
Hazel: Neutral dark brown pigment with a medium/dark value. It is lighter than Terra. Suitable for Fitzpatrick 2-4.
Mocha: Medium value, mid-brown pigment with a warm undertone. Suitable for Fitzpatrick 1-3.
Oak: Medium/dark value, dark brown pigment with a cool undertone. Suitable for Fitzpatrick 3-6.
Terra: Dark brown, dark value pigment with a neutral to cool undertone. You can use this to darken any other colors. Suitable for Fitzpatrick 4-6.
Pigments, Aqua, Glycerin, Rosin, Hamamelis Virginiana, Isopropyl Alcohol, Benzyl Alcohol
Vegan
Cruelty-free
CTL certified
Sterilized by gamma radiation
Made in USA
CPNP registered
BVL registered
3.5-year shelf life unopened. 1 year once opened
Store upright in a cool, dry environment away from direct sunlight
Shake well before use
Mix and modify to create custom shades
Peel off tab and open lid to dispense
Apply clear tape to label for efficient disinfection between procedures
Talk to product expert
Customer Reviews
Write a Review
Ask a Question
09/10/2021
Monica M.

United States
Best Pigment Yet!!
First time using them on a client today and when I tell you it melts in the skin like butter. I love the end result!!!!!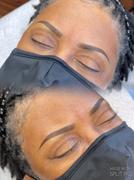 08/27/2021
Hazel M.

Canada
Excellent true healed colors
Very happy. Clients are happy.