Tina Davies
I ❤️ INK Needle Cartridge Sampler Pack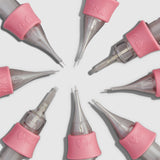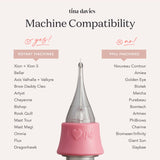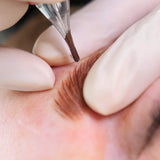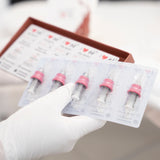 Tina Davies
I ❤️ INK Needle Cartridge Sampler Pack
Find your ideal configuration with the Sampler Pack, including 10 long taper flexible, brush-like needles in various sizes and configurations.
In the kit:
10 needle cartridges per box
0.25mm 1RL and 0.30mm 1RL (two each)
0.35mm 1RL, 0.25mm 3RL, 0.25mm 3RS, 0.25mm 5RS, 0.25mm 7CM and 0.25mm 9CM (one each)
Use small needles (1RL, 3RL, 3RS, 5RS) for precise details
Use large needles (7CM, 9CM) for coverage and efficiency
All needles fit rotary machines and are effective on face and body
Elongated tip and finger rest for improved precision and control
Full membrane to prevent backflow and EO gas sterilized
Materials:
304 surgical grade stainless steel
0.25 mm, 0.30 mm, 0.35 mm needles
EO gas sterilized
Disposable
Full safety membrane
Compatibility:
Universal cartridge design is compatible with all rotary machines, not compatible with PMU digital machines/devices.
Compatible with the following rotary machines: Artyst, Axys Vahalla, Cheyenne, Xion, Xion S, Bellar, Brow Daddy Cleo, Valkyre, Bishop, Rook Quill, Mast Tour, Omnia, Flux, Mast Magi, Dragonhawk, and more.
Not compatible with the following PMU machines/devices: Nouveau Contour, Amiea, Golden Eye, Biotek, Bomtech, Meicha, Purebeau, Artmex, PhiBrows, Charme, Biomaser, Infinity, Slay Bae, Giant Sun, and more.
Documents:
Needle selection is based on personal preference, skin conditions and design demands
To use: insert, twist and lock
Adjust the needle hang on your machine to allow the needle to protrude by 2-3 mm
Allow the needle to "draw up" ink into the tip of the cartridge by running the machine and holding the tip in place
Always work off the tip(s) of the needle without forcing it into the skin
Maintain a taut stretch at all times to maximize ink deposit and minimize skin trauma
Wipe the tip of the needle frequently to remove buildup
During tattooing, clean the needle cartridge in sterile water to remove buildup and when changing colors, similar to when you are painting
Do not allow the needle to hit the bottom of the pigment cup to prevent damage to the tip of the needle
Dispose into a sharps container after use — do not reuse
Talk to product expert
Customer Reviews
Write a Review
Ask a Question
Smooth operator!
Love this set! Great chance to try a different varieties of needles. Good quality needles make all the difference!!
11/18/2022
Frank P.

United States
Needle cartridges
Love it ! It's easy to work with them .